Pubs Near London Markets
London has had markets since medieval times and today they are as popular as ever with the bargain hunter or those looking for something different outside the main British High Street. But we all know that shopping is thirsty work so here are a few pubs to relax in once the hard work has been done.
Borough Market
This bustling market is close to London Bridge Station and sits under the railway arches giving it a unique atmosphere. It is believed to be the oldest market in London. It sits in the shadow of Southwark Cathedral. There are some excellent pubs in this area. Here are just two of them. >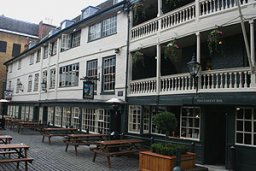 The George Inn, 77 Borough High Street, SE1 1NH
A historic pub, built in its present form in 1676 after a fire that destroyed most of Southwark. It is the last galleried pub in London, owned by the National Trust and operated by Greene King, from whom most of the beers come (London Glory, George Inn Ale, Old Speckled Hen, Abbot and IPA) apart from one guest. The large heated courtyard off the main road provides plenty of outside seating. A seven day food menu with main courses (steaks, fish and chips, beef and ale pie, sausage and mash) and snacks, with traditional Sunday roasts, is served 12:00-21:00. Families are welcome.
Open Mon-Sat: 11:00-23:00, Sun: 12:00-22:30; http://www.traditionalpubslondon.co.uk/georgesouthwark/index.php; telephone 020 7407 2056
Market Porter, 9 Stoney Street, SE1 9AA
This pub has a 'market licence', opening for breakfast to cater for the market workers. It serves up to 12 changing real ales and ciders; the only regular beer is Harvey's Sussex Best Bitter.
Attached to the walls and ceiling are pump clips showing the vast range of the beers that have previously been on sale. At the rear is a small air conditioned seating area and, upstairs, a restaurant serves meals at lunchtimes and is available for hire in the evenings. This popular pub can get very busy, with drinkers spilling out onto the street, particularly on market days.
Open Mon-Fri: 06.00-09.00; 11:00-23.00; Sat: 12:00-23:00; Sun: 12:00-22:30; www.marketpporter.co.uk; telephone 020 7207 0784.
You can also find the The Rake, which you will find in the imported beer bar section of the London Drinker magazine - 2012 Visitors' Edition, and the Royal Oak (food section) are also close by. Also see Hay's Galleria, below.
Brick Lane/Spitalfields Market
Brick lane is a well established market started in the 17th century for fruit and vegetables. It is now noted by many as the curry centre of London. It is a traditional market, with a rich diversity of food, second-hand clothes (always worth a look for the retro-lovers), furniture, bric-a-brac, magazines, toiletries, sweets, electrical equipment and everything in between. The market spills across a relatively large area and several streets.
Pride of Spitalfield, 3 Heneage Street, E1 5LJ
Just off Brick Lane, the Pride is a traditional one bar pub where the reception is genuinely welcoming. Not surprisingly, it is hugely popular and is always packed; in summer, the customers spill out on to the street. Inside there is a working piano and a large comfortable sofa and the walls are decorated with old photos of the local area, old bottles and earthenware jugs. The regular beers are Crouch Vale Brewers Gold, Fuller's London Pride and Sharp's Doom Bar which are complemented by two changing guest beers. Look above the bar to see the display of pump clips of previous guest ales.
On Friday nights, at about 18.30, free roast potatoes and cocktail sausages are available for customers. A good choice of hot food like scampi and chips and sandwiches including salt beef or steak and onion are available lunchtimes from 12:00 till 14:15; on Sunday from 13:00 to 17:00 roast dinners are available. Children are allowed until early evening.
Open 11:00-23:00 (02:00Fri/Sat), Sun 12.00 - 22:30; telephone 020 7247 8933
Broadway Market
Venturing a little off the beaten track, Broadway Market in E8 is a farmers' market held every Saturday, where a good selection of food is on sale. The Dove, 24-28 Broadway Market E8 4QJ is described in the imported beer bar section of the London Drinker magazine - 2012 Visitors' Edition.
Camden Market
Camden Market is one of the liveliest and most varied of London's markets and it would not be possible to do it justice here; go to www.camden-market.org/ for more information. It is the fourth-most popular visitor attraction in London, attracting approximately 100,000 people each weekend. The nearest tube is Camden Town or Chalk Farm. Bus routes 24, 27, 31 and 168 go along Chalk Farm Road.
Ice Wharf, 28 Jamestown Road, NW1 7BF
Serving Greene King Abbot, Shepherd Neame Spitfire and two guest beers plus Weston's Marcle Hill Cider, this is a typical Lloyds No 1 Bar, which opened in 2002. It can be found alongside Camden Lock on the south side opposite the main market and can be accessed by the bridge; you can also enter either from Camden High Street via a footpath next to the lock keeper's cottage (now a Starbucks!) or from Jamestown Road. It's a huge place with a family area: children are clearly welcome. Food is served from opening until an hour before closing.
It can be the busiest pub in Camden, particularly on a warm summer's afternoon. Live music of various types features virtually every evening, TVs broadcast live news and there's free WiFi. A large seating deck with umbrellas for shade lies next to the Lock where drinkers can watch canal boats moving through.
The pub is named after the nearby ice wharf which was built in 1837 for ice imported from Norway.
Open 08:00-23:00; telephone: 020 7428 3770
Prince Albert, 163 Royal College Street, NW1 0SG
Tucked away from central Camden and its Market, this pub is worth walking those extra steps for a civilized pint, a quiet chat and a bite to eat. Children and dogs are welcome and it offers free WiFi. The nearest tube is Camden Town, but Camden Road Overground station is closer.
The pub is a sensitive conversion by private owners of an old Charrington pub. The leaded Toby windows and wooden floors have been tastefully restored. The outside tiling is striking but the main reason for visiting is the beer range. The regular is Young's Special and the guest beers include one from either Redemption or Sambrook's, and two others, often including one from Otley. The pub belongs to the CAMRA LocAle scheme, which means it will always try to stock a beer brewed within 30 miles of the pub. There are also occasional beer festivals and always at least one real cider available, usually from more unusual producers. Card-carrying CAMRA members get 50p a pint discount off a named guest beer (see blackboard).
The outside garden is one of the most pleasant in Camden. There is a restaurant upstairs offering full table service and the pub website will give full detail of what is on offer, including daily specials. The pub takes great pride in how it sources its food. The restaurant opens 12:00-15:00 and 18:00-22:00 and for Sunday lunch 12:00-17.00, but bar food and snacks are served all day downstairs.
Open 12:00 - 23:00 (22:15 Sun); http://princealbertcamden.com/; telephone 020 7485 0270.
Chapel Market
This is one of London's most traditional and liveliest street markets. It sells fruit, vegetables and fish as well as bargain household goods and cheap clothes. It is open every day except Monday, operating in the mornings only on Thursday and Sunday. The market is only 2-3 blocks long. Many of the patrons are local and the food and goods are primarily for everyday use. Chapel Market also boasts one of London's few remaining pie and mash shops: Manze's. Islington Farmers' Market relocated to Chapel Market in 2012 and is held every Sunday at the Penton Street end.
Compass, 58 Penton Street, N1 9PZ
This pub reopened in 2009 as a mixture of gastro-pub, bustling bar and neighbourhood restaurant. Four handpumps dispense three real ales, two of which are often Adnams Bitter and Whitstable India Pale Ale. Beers from Loddon, Otter, Wooden Hand and Kelham Island have also appeared. Cheddar Valley Cider is also on sale.
It has been modernised in simple, modern colours but the outside retains its impressive Courage brown tiling and sign. An open kitchen prepares daily lunch specials, home-made pies and desserts and a selection of unusual bar snacks, pickles and breads. There is a bar menu (17:00-22:00 Mon-Wed, 12:00-22:00 Thu/Fri) and a full restaurant service. It combines a large ground floor bar and a first floor function room complete with an open fire. The pub faces south and so, weather permitting, large outside tables get sunshine all day.
Open Mon/Tue 17:00-23:00, Wed-Sun 12:00-23:00 (midnight Fri/Sat); http://thecompassn1.co.uk/; telephone 020 7837 3891
Exmouth Market
Exmouth Market is a typical locals' market with a mix of stalls ranging from fruit and vegetables to clothing. The street food market is a great place to meet up for al fresco lunch, with many food cultures to choose from including Ghanaian, Jewish, Gujarati, Moorish and many more. Exmouth Market's opening hours are Monday to Friday from 12:00 to about 15:00. It has recently acquired a large number of cafés and restaurants, but survivors from an earlier era include the traditional eel and pie shop at No 46 and the Quality Chop House nearby on Farringdon Street.
Exmouth Arms, 23 Exmouth Market, EC1R 4QL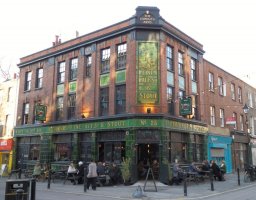 Built on the former Spa Fields, the pub was named after Viscount Exmouth, who was ennobled after an expedition against the Barbary Coast pirates in 1818, and displays his coat of arms. It gave its name to the street. The pub is in the heart of Exmouth Market and is 2 minutes walk from London's Sadler's Wells Theatre. A good example of 'village London', between Islington and the City, this is a growing area of independent design shops, fashion and lifestyle boutiques, health and beauty specialists, unique gift and book shops and a wide range of exciting cafes, bars, restaurants and stalls.
The pub's most recent rebuilding was in 1915 (see date stone) for the former Camden Brewery and it retains its white-tiled interior and Courage signage but the inside has been totally reconstructed in recent changes of ownership. There is a small bar upstairs used for overflow on busy nights and available for functions and meetings. Of the four beers on handpump, one is usually from London. Food is available Monday to Friday 10:00-22:00 and Saturday 12:00-22:00. Examples from the menu are 'sliders' (mini-burgers with fillings such as Angus cheeseburger with tomato relish; lamb and feta pattie with cilantro mayo; goats cheese, beetroot and pesto; and teriyaki salmon with pickled ginger), soup, salads and sides. On Sunday only roast dinners are available from 12:00 to 21:00.
Open Mon-Fri 10:00-midnight, Sat 12:00-01:30, Sun 12:00- 22:.30; www.exmoutharms.com; telephone: 020 3551 4772
Opposite the pub is the Victorian church of the Most Holy Redeemer, built in a powerful Italian Renaissance style; the interior is worth a visit. Also close by is the striking early 20th century Finsbury Health Centre, one of the radical buildings by Lubetkin and Tecton for the former Finsbury Borough Council and, for those seeking information on their ancestors or on London's history, the Family History Centre and the London Metropolitan Archives. A short walk leads south to St John's Gate and the museum of the once-powerful medieval Knights Templar or north-east to Sadler's Wells Theatre.
Hays Galleria
The youngest market featured in this magazine, Hays Galleria was set up in 1987. The name comes from Alexander Hay who, in 1651, took over the lease on a brewhouse in Hay's Lane. Later, his family developed a business empire that gave its name to Hay's Wharf. Today Hays Galleria is an attractive small undercover market that houses stalls, shops and restaurants dominated by David Kemp's 60ft sculpture, The Navigators. The Galleria is just a few minutes walk from London Bridge Station (Tooley Street exit from the underground station. It is open every day.
Horniman at Hays, Unit 26 Hays Galleria, London, SE1 2HD
large riverside pub, based in Frederick Horniman's old tea dealing warehouse, opposite the Tower of London with HMS Belfast moored nearby. Inside the pub, attractive friezes depict Horniman's travels to Africa, India and the Americas. The pub offers a large range of beers; Fuller's London Pride, Sharp's Doom Bar, Brain's SA Gold and St Austell Tribute are pretty regular with up to seven rotating guest ales.
An upstairs dining area, offering views down into the pub, has full restaurant service and food can also be eaten in the downstairs bar. The menu ranges from steaks, ale battered fish and chips, Gloucester Old Spot sausage and mash to wild boar and chorizo burgers. There's a fish and salad section including dishes such as grilled sea bass fillets, tiger prawn and chorizo or chicken and bacon salad. Food is served from opening until 22:00 (Thu-Sun 22.30). Outside seating allows you to watch the life on the Thames pass by. Open 10:00-23:30 (midnight Wed, 00:30 Thu-Sat, 23:00 Sun) ; telephone 020 7407 1991
Leather Lane
A market has been on this site for over 400 years. Today, it is open every weekday from around 10:00 to 14:00. A wide variety of stalls provides a good selection of clothing and accessories, books, produce and more, and the choice of shops adds to this attraction. There is also a good choice of hot meals from the market.
Craft Beer Co, 82 Leather Lane EC1N 7TR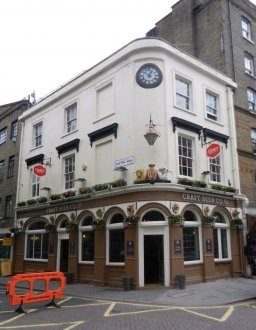 East London & City branch of CAMRA 2012 City Area pub of the year, this market street pub has a long single bar with 16 handpumps with only one regular, Kent Brewery Pale (a specially brewed house beer). The other handpumps offer a diverse selection of ales from small independent breweries and often include milds, stouts and porters.
As well as the real ales, though, there are beers from around the world, many exclusive and never before available in this country before. They spend a great deal of time sourcing beers and import many themselves; including genuine hand crafted small batch beers from the world's finest brewers. Do not contemplate complaining of short measures as they use oversize glasses. The pub was previously named the Clock House and a section of the ceiling still displays large clock face numerals. Mirrored glass in this unique ceiling is complemented by a large mirror above the fireplace. Upstairs there is a lounge with two rooms providing extra seating. Food is limited to snacks such as pork pies and scotch eggs.
Open Mon - Sat 11:00-23:00, Sun 12:00-22:30; http://thecraftbeerco.com/